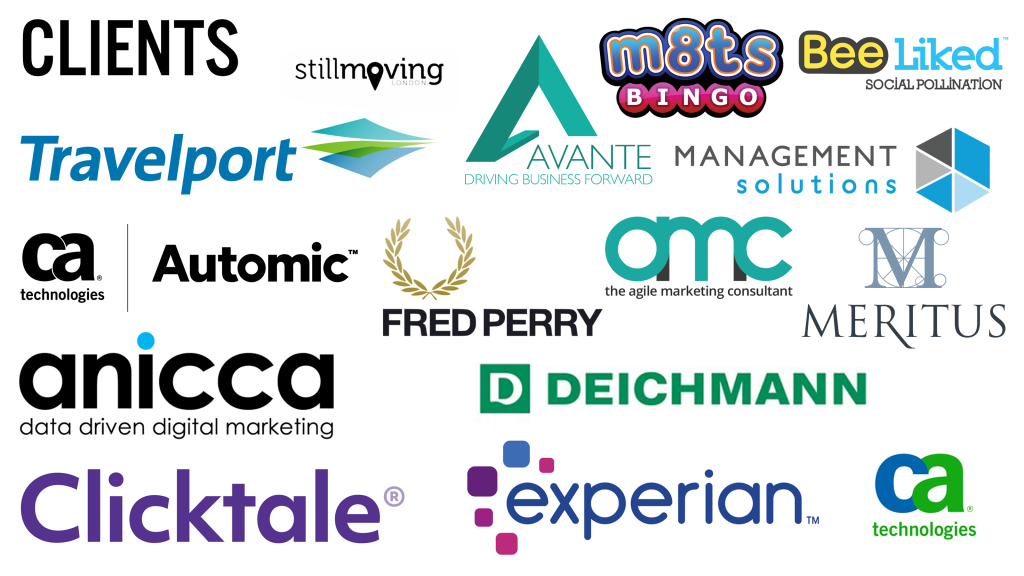 We manage a client base of around 5 – 10 clients at any one time, some retained others ad hoc.
From the biggest B2B companies to local businesses, we work with everyone to deliver the designs they need on the budget they want.
Our current clients include;
Travelport, a Travel Commerce Platform, focused on providing distribution, technology, payment and other solutions for the $7 trillion global travel and tourism industry, listed on the New York Stock Exchange (TVPT).
Experian, the world's leading global information services company. The worlds largest consumer credit reporting agency. Experian collects and aggregates information on over one billion people and businesses.
CA Technologies ranks as one of the largest independent software corporations in the world. The company creates systems software that runs in mainframe, distributed computing, virtual machine and cloud computing environments. In late 2016 they acquired Automic a business automation company.
Deichmann is the market leader in the German and European shoe business. In 2017 Deichmenn sold 176 million pairs of shoes in 3,989 branches worldwide.
Management Solutions are a home-grown Bermuda firm. When the company started three years ago, their goal was to develop a global consulting practice. Today, Management Solutions has a diverse and growing client base with offices in the UK, Bermuda and Cayman.
Avante are a digital marketing agency with offices in London and Bermuda, managing a number of high profile clients.
Meritus Trust are a trust company based in Bermuda serving wealthy international families, offering virtual family offices, private family trusts, reserved powers trusts, trust companies, and bespoke services.
Clicktale are an analytics firm that enable businesses to interpret their customers' digital body language and understand intent. They pioneer in Experience Analytics, marrying cognitive computing, machine learning and psychological research.